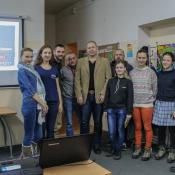 On Monday the meeting with representatives of Sievierodonetsk civil society organizations where Human rights Center «Postup» told about the program PHASE EU Aid Volunteers took place. We are preparing the visit of the European volunteers from PHASE EU Aid to Ukraine.

We talked about possibility of Ukrainian NGO participation in the project and by these means empowerment of volunteering activity in Ukraine, participation in European programs, and additionally, expansion of the partner network and, of course, the invitation of professional volunteers.

3 basic steps of the program:

— Capacity building of the organization (preparation of documentation on security, logistics and work with volunteers);

— EU Certification in the role of organization hosting volunteers;

— Hosting volunteers in Ukraine (professionals and young specialists).

We are grateful to those who found time to come to see us and to find out more about volunteer project EU Aid Volunteers. By the way, its activity is planned minimum until 2020. It means if other NGOs start the process of certification in 2018 they will be able to apply to invite European volunteers up to 2021-2022.

We would like to remind that the project PHASE EU Aid Volunteers (Platform on Humanitarian Aid for a Sustainable Empowerment) is aimed at strengthening the capacity of non-governmental organizations, safe and effective attraction of volunteers from the EU to other countries, including Ukraine.